Do I need a Visa for Turkey if travelling from the UK?
Yes, the requirements now are that any passenger with a UK passport wishing to travel to Turkey on holiday will require a visa.
A Visa for a Turkey Holiday will cost you $20 USD (roughly £12.50) per person
Apply for your Holiday Visa for Turkey if you're travelling from the UK
The Ministry of Foreign Affairs of Turkey have now changed the process and  all UK passport holders, travelling to Turkey from the UK after the 11th April 2014 will be required to apply online for a Holiday Visa.
How to apply for a Turkey Visa?
The official visa website can be found here – https://www.evisa.gov.tr/en.  Be careful, there are many websites who claim to offer a Turkey visa, but in many cases you pay a handling fee of around 'double' the actual cost of the visa.  If you're travel agent offers to do it for you, make sure they only charge you the actual fee of $20 USD per person.  It's very simple to do yourself if not as you don't even have to download an application form.
You can read our simple 'how to' guide below.
How much will a Turkey Visa Cost?
Currently (as of 1st January 2014) an entry visa for your holiday to Turkey will cost $20 USD per person. You can only pay with visa/Master debit or credit cards and your card needs to be 3D Secure registered. The payment will be made in US Dollars and it will be your bank who convert the payment to GBP.
Can I get my Turkey Visa on Arrival?
Previously, this was the only way to do it.  When you arrived at the airport you would pay £10 per person to passport control and they would stamp your passport for entry into Turkey.
What information will I need to apply for a Turkey Tourist Visa?
It's easier if you have everyone's passport in front of you when applying as you'll need the following information
Nationality

Arrival date into Turkey

Full names as they appear in each passport

Date of Birth

Place of Birth

Your Mother and Fathers names

Passport Number

Passport Issue & Expiry Date

An email address, telephone number and your home address
Important – each traveller MUST have a minimum of 6 months left on their passport from the date they enter Turkey.
Do children or infants need a Turkey Holiday Visa?
Yes, both children and infants will require a visa and the cost is the same regardless of age.
How long is the Visa valid for?
The turkey visa is valid for a total of 180 days, but you are only permitted to stay for a total of 90 days within the 180 day period.
Can I amend the dates of the Visa?
If your travel plans change, you are not able to amend the dates of the visa. Remember is it valid for 180 days from your original arrival date and is multiple entry. If you exceed the period of validity, you will have to re-apply for a new Turkey Visa.
If for any reason, your visa application is denied, you will not be charged. The $20 USD fee is only paid on approved Visa's.

How to apply for a Holiday Visa for Turkey from the UK
Step 1 – Open up the following link in a web browser – https://www.evisa.gov.tr/en
Step 2 – Click the 'Apply' button and select your Nationality, passport type, add the security verification code, then 'Save and Continue'
Step 3 – Select your arrival date.  The visa is valid for 180 days and you can enter Turkey multiple times.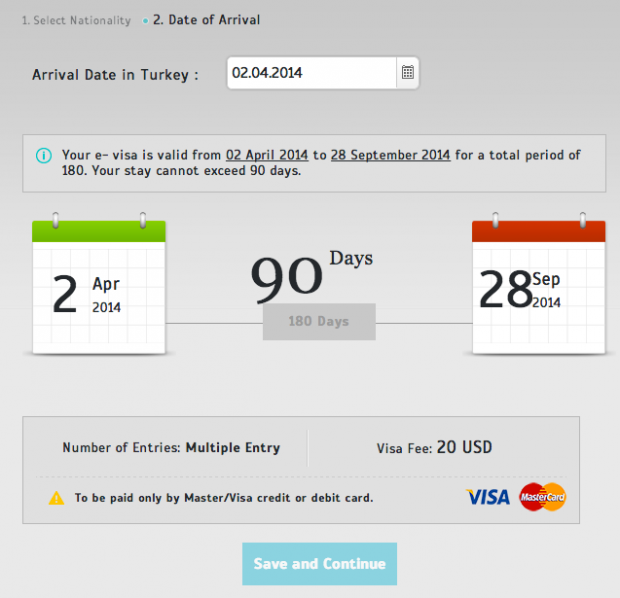 Step 4 – Add your details such as name, date of birth , passport details etc.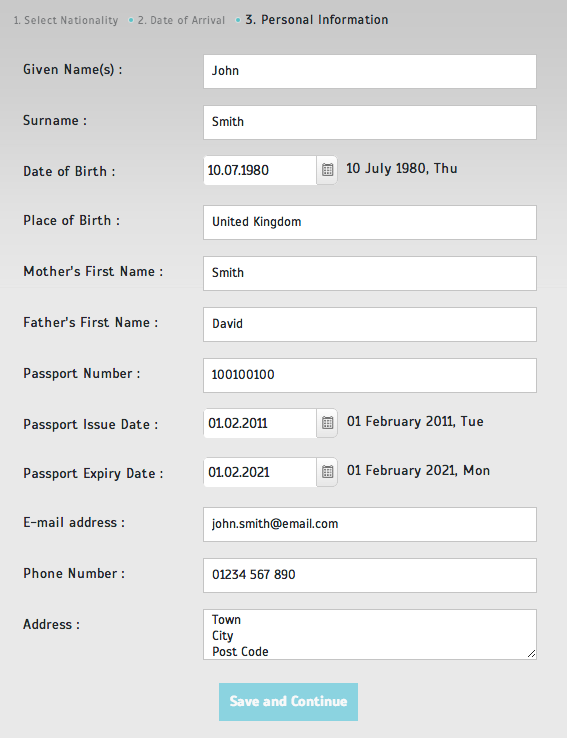 Step 5 – You have to verify your details are correct as they can't be edited after.  You'll then receive an email confirming your application.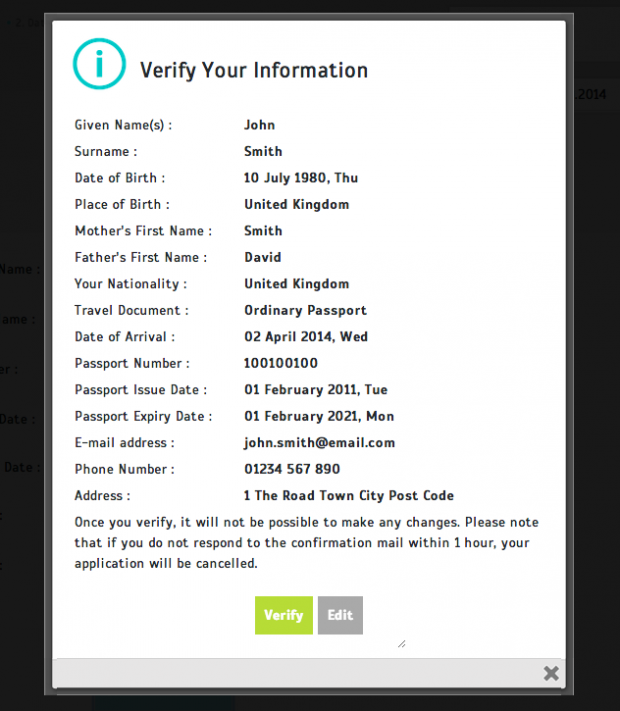 Step 6 – Click the 'Verify Email' link in your email and you'll be taken to the payment page.
Step 7 – Pay for your Turkey Visa using either a visa/master credit or debit card.  On the confirmation page you'll have to print out your new visa as it's essential you take it with you when you travel.  You'll also be sent a confirmation email containing a link to print it out if you can't at the time.
Can I apply for all passengers in one application?
Unfortunately not, you'll have to apply for each individual passenger separately, including children and infants, but the process shouldn't take any more than 5 minutes.